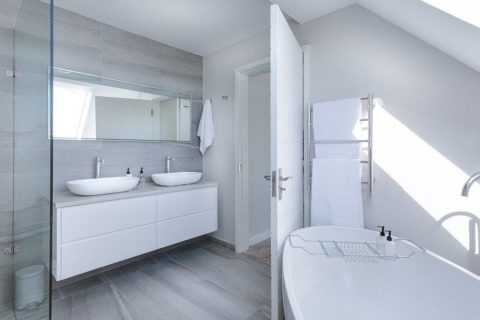 After deep cleaning your living room, bedroom, kitchen, chances are good that you're starting to feel pretty good about the condition of your home, but there's still an important room that's in need of your attention. It is the easiest room in the entire house to procrastinate over because nobody loves scrubbing toilets, but alas, the time has come in our deep cleaning series of blog posts to offer best practices for getting your bathroom in sparkling condition.
#1 Clean the Shower
Deep cleaning a bathroom includes your shower nozzle, which can crust over with lime and mold if not done regularly, as well as the shower walls and any built-in shelving. Make sure to lift your soap and shampoo bottles (and throw away any empty containers) because the underbelly of those bottles can accumulate dried overflow soap. If there's a shower door, wipe it down, but if you've got shower curtains, you'll need to clean them more carefully to clear all those folds of soap scum and mildew.
#2 Clean Tiles, Walls, and Ceiling
As in any other room, make sure you're wiping down the ceiling and the walls with a dry microfiber cloth to clear any dust or cobwebs. If your walls are tiled in places, give the grout a scrub with a toothbrush to keep the color vibrant and your bathroom looking like new.
#3 Clean the Toilet
Start by wiping down the exterior of the toilet, which can get dusty if left alone too long. From there, the dirty work gets underway under the lid. Toilet brushes and pumice scouring sticks are common tools to get stains out of the basin of the toilet. Once those are clear, wipe down the toilet seats, and you're done with the toilet!
#4 Clean the Sink and Mirrors
Bathroom sinks can get all kinds of disgusting thanks to toothpaste, hand soap, hair gel, and renegade hair, so it's important to give it and the surrounding counters a good scrub with a cleaning solution. The mirrors should be wiped down, too, because those little water spots are unattractive and annoying to have around.
#5 Mop the Floors
After all that is done, it's time to sweep and mop the floors. Get all the hair up off the floor, then scrub it with a mop—especially in the corners, where bathrooms always manage to be especially filthy.
#6 Launder Towels
You likely get a fresh towel whenever you need one, but if you're deep cleaning the rest of the bathroom, you may as well launder your towels and get some fresh, fluffy ones on your towel racks to make the finished product look great.
#7 Hygiene and Safety Practices
Taking the extra time and precautions, now more than ever, is important to our health and safety of everyone around us. Be mindful of proper safety practices including proper disinfecting of high-touch areas around your bathroom and home, including handles, faucets, and light switches. During the COVID-19 pandemic, please visit CDC's recommendations.
---
As always, Cleaning Ninjas would love to take this work off your hands and do all the deep cleaning for you. Clean bathrooms keep your home sanitary, and if we're going to put in the hard work of deep cleaning the rest of the house, we absolutely should be deep cleaning the bathroom as well. If you want to schedule a team to deep clean your bathrooms, give us a call here at Cleaning Ninjas and we'll make sure our deep cleaning services for Omaha residents extend to every room of the house, including the bathroom.