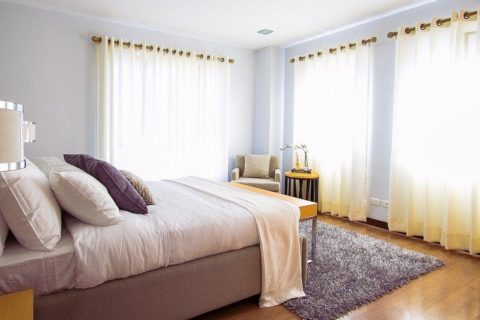 At this point in our deep cleaning series of blog posts, we have talked about how to deep clean the kitchen and the living room, but this month we turn our attention to deep cleaning the bedroom, where most of us spend about a third of our lives. It is important for this room to be comfortable, and a big part of comfort is cleanliness. As such, we offer the following tips for making sure your bedroom is as clean as it possibly can be:
#1 Strip the Bed
While this is something that most people do periodically, it's important to remember that you can wash more than just your bedsheets. To deep clean your bedroom, start by stripping the entire bed, including sheets, comforter, and even pillows. You may need to run a few loads of laundry to get them all clean, which is why it's best to start with this.
Keep in mind that down and down-alternative comforters can be machine washed in cool water and dried in the drier, as long as the temperature is low. Stop the drier every half hour or so to re-fluff the comforter so it dries completely. Some comforters must be dry cleaned, so read your comforter's tag to know for sure.
As for pillows, you should try to wash your pillows at least a couple times per year. Feather down pillows must be hand-washed, but synthetic materials can be washed and dried in your washing machine and drier.
#2 Wash the Walls & Windows
The next step is to wipe down your walls, dust your window sills, and clean streaks and dirt from the windows themselves. Our professionals typically start at the ceiling, vacuuming cobwebs and dust bunnies from the corners, and we'll work on the ceiling fan, too, as it also can collect a significant amount of dust. Any overhead light should be dusted, as well.
From there, we suggest wiping down the sills with a damp cloth and then using a cleaning solution to clear windows of dirt, water spots, or streaks. If you have blinds, they will need to be dusted, and if you have curtains, you may want to consider running them for a washing in the machine.
#3 Dust Surfaces
After you've dusted up high, the next step is to dust down low. With a damp cloth, clear the dust from all dressers, bedside tables, headboards, and footboards. You may also want to dust inside drawers, since those surfaces can gather dust, as well.
#4 Clean the Floors
Finally, you'll need to clean the floors. If that means hardwood, it's as easy as sweeping or vacuuming and then mopping. Carpeting is a little tougher, especially if you want to deep clean. We suggest hiring a professional carpet cleaning service to really pull all the dirt and bacteria from the fibers, but at the very least you should vacuum the room thoroughly, including along the floorboards and in the corners with the wand extension of the vacuum.
It sounds like a lot of work because it absolutely can be. If you would rather just hire the professionals at the Cleaning Ninjas to handle your bedroom deep cleaning for you, give us a call and we'll provide you with an estimate to make sure it gets done the right way.